Sam

Anime

|

2013 Manga

|

OVA

|

1991 Manga

サーム
Sāmu
Vital Statistics
Gender
Male
Status
Status
Alive
Country
Pars
Position
Marzban
Physical Attributes
Hair Color
Gray and White (2013 Manga and Anime)
Eye Color
Blue
Debut
Manga
Chapter 6 (2013 Manga)
Anime
Episode 5
Voice Actor
Japanese
Hiroshi Yanaka (Anime)
Kazuhiko Kishino (OVA)
English
Jeffrey Schmidt (Anime)
Sām (サーム, Sāmu? ) is one of Pars's Marzban.
Appearance
Edit
2013 Manga Anime
Edit
He has black sideburns beard and black hair with a white streak, and a rather dark skin. He seems to be a little sinewy.
OVA Series
Edit
In the OVA, he has a full brown beard and fully black hair, and also light skin.
Personality
Edit
Sām doesn't have a strong belief in the use of force and rather he calmly observes situations objectively to find the least harmful solution, notably when he told Garshasph to stop threatening Ecbatana's slaves after they heard Lusitania's claims. He also asked for the slaves's freedom for good work during the siege of Ecbatana.
He is talented in commanding both defense and attack of castles.[1]
Relationships
Edit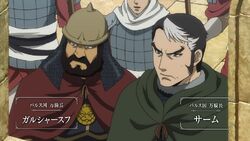 Sām and Garshasph do not get along on the Capital's defense and the slaves, but they do not seem to hate each other.
Sām loathes Kharlan after his betrayal. It is unknown how their relationship was before.
He remains faithful and shows a great respect to the Queen, in spite of the fact that she refuses his advice.
Sām is very shocked when the Silver Mask revealed his true identity to him.
Sām is one of the Pars's Marzban; this means he commands 10,000 horsemen.
A Character from The Legend of The Galactic Heroes, another novels of Yoshiki Tanaka, is also named Sam.
His appearance in the anime/2013 manga is vaguely similar to his appearance in the OVA.
References
Edit
↑

from the Novel and chapter 56 of manga.